Google Workspace allows you to work with Google apps from the web, and offers cloud storage and easy collaboration.
All current University of Utah students, staff and faculty are eligible to use a University of Utah Google Workspace account.
Log in with your uNID and university password to begin.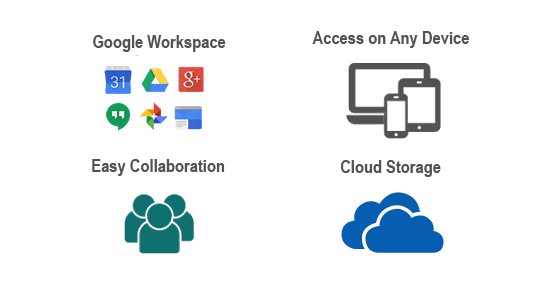 About
Google Workspace is an online cloud storage and collaboration tool that provides users the ability to create, share and collaborate using Google applications. Your University of Utah managed account, automatically provisioned, offers limited storage and provides security.
The University of Utah has partnered with Google to provide free Google Workspace accounts to all current students, staff and faculty.
1. Go to gcloud.utah.edu
2. Click the large "LOGIN" button near the top right side of the page
3. Select "Sign In" at the top right corner of the page
4. Enter your uNID@gcloud.utah.edu
5. You will be taken to the CAS authentication page. Enter your uNID and university password
6. On your "My Account" page, select the Google Apps icon near the "Sign-In" button on the top right of the page to access Google applications
Note: If you have already logged in to an application using single sign-on (SSO), you may not need to reenter your uNID or password.
Features:
Easy collaboration
Access on any device
Cloud storage
25 GB storage for students; 150 GB storage for faculty and staff
Full Google suite
My account features:
Set up email forwarding
Handle your notifications
Control your content
Activity controls
Language and input tools
Accessibility
Google Workspace applications:
Drive:

Gmail:
Hangouts:

Keep:

Get started
Below are some recommended resources to help you get started.
User guides and how-to documentation
Training
Below are recommended tutorials, videos and guides.
Learning Center
Support
---

---